About Anita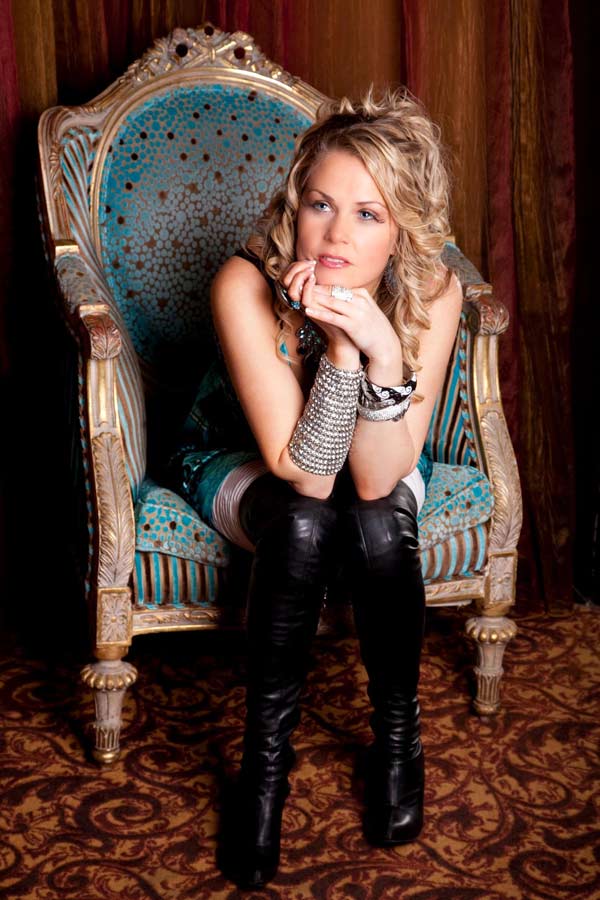 Anita Prime is an R&B/Pop singer and songwriter originally from Palmerston North who now resides just outside Wellington New Zealand in the Hutt Valley. At the 2011 LAMA Los Angeles Music Awards she won the Best Music Video Category for the video supporting her first international single "La La La" after being nominated for both this, and in the Best International Artist categories. In September of 2011 Anita Prime's third single "Complicated" achieved the #3 position as Breakout Artist on the US Billboard Charts in the Hot Dance/Club Play category and remained on the chart for 11 weeks solid!
Anita Prime came from a musical family fluent in the piano, trumpet and ukulele. She began singing at a very early age, began learning piano from the age of 5 and went on to learn the flute, guitar and drums. Receiving her certification from the prestigious Trinity School of London, Anita Prime began performing live at 13 as part of a band "Three 'n One", and has gone on to work the New Zealand circuit and to perform as a featured artist in many community and charity events, as well as on TV3's "Nightline", TV1's "Good Morning", at WestPac Stadium Wellington, Waitangi Day Celebrations and Christmas In The Park Concerts. Her music and interviews, as well as her music videos, could be heard in New Zealand on Mai FM, Flava, Nui FM, More FM, Atiawa FM; Te Upoko o te Ika; Kia ora FM, Maori Radio Station Network, Hutt Radio, One Eyed FM, and Juice TV.
Anita Prime's career headed toward the international stage in 2010 when she met Grammy Award nominated record producer Ron Thaler at a conference. Thaler reworked the entire album, and released "Destiny" to international acclaim. Thaler says of Anita's talent;
"…We are entering an important time in music, where true artists are finally getting their due. Anita Prime finds herself right in the middle of it, one of New Zealand's three most celebrated recent exports alongside Kimbra and Lorde. A voice on par with any of the greats and a commanding stage presence that takes no prisoners, Anita Prime is proof positive that it is ok to be engaging and honorable, to empower listeners with feelings both intense and deep, and to write music that makes people really care… "
Along with Anita Prime's original material on her debut album Destiny, Anita has co-written material with such notables as Pete Remm (current pianist for Norah Jones), Traum Diggs (MC for Wyclef Jean and Jay Z); and has had the privilege to have musicians like Rick May (former bass player for Michael Jackson) and Ron Thaler (Alicia Keys drummer) play on her material.
In 2011 Anita Prime began touring internationally in support of "Destiny", performing two tours through Europe, Israel, and Canada, and joined the 2011 USA All Star Rock Tour alongside Orleans, Robbie Dupree, Joe Lynn Turner (of Deep Purple fame), and Joe Bouchard (Blue Oyster Cult) for dates spanning across the USA. Anita Prime has subsequently completed 2 other tours in the US and Canada, with performances on both coasts and appearances on TV programs "Canada AM"(with a viewership of 2,000,000), "Out There with Melissa DiMarco" (viewership of 1,000,000) as well as on "Indie Love", and at the Toronto Opera House, London UK's Oxford Circus, The Mahafey Center, The Rochester Armory, and filmed several episodes of the new USA reality show, "Almost Famous".
Between US tours Anita Prime continues to perform throughout her native New Zealand at festivals such as the Flava Waitangi Day Festival in Auckland, the Maori Motown Festival in Napier, and Christmas in The Park, Wellington and Palmerston North, Waitangi Day Celebrations in Palmerston North, Auckland and Upper Hutt.
Anita Prime has also opened for Grammy Award winner Mya ("Lady Marmalade") and K-Ci and Jo Jo ("All My Life"), sung for Richard Branson, the NZ Israeli Ambassador (among other NZ diplomats and dignitaries), the NZ's Got Talent Finalist J Geeks and Diamond Divas. She has also been engaged to perform for national companies such as Hewlett Packard, Les Mills GFX International Extravaganza, National Women's Vibe Conference among others.
Anita Prime also is the CEO of her own music school, Prime Music Academy (formerly Vocal Expressions) based in Upper Hutt, that helps shape new vocal artists and musicians for meaningful careers in music, including NZ Idol finalists and multi-platinum artists Evermore and Australia's Got Talent selectee Gareth Barker.
Recently judged the National Karaoke Championship (alongside Tina Cross, Nik Carlson, Brannigan Carr, Miyuki Utsumi, Maaka Fiso, Te Hamua) of which the 2013 winner (Myikah Asovale) went on to Finland to compete on the world stage, coming second at this international competition.
In 2013 Anita Prime was selected to be inducted into the Creative Giants of Palmerston North, New Zealand, along with other leading artists from various art forms.
2014 has started with the production of several music videos, the first of these being "Rain." Anita Prime's new album is due for release early next year.
Further reference from NYC producer Ron Thaler; "Anita Prime came into my professional world like a tornado hits a house. At a music conference in Wellington. First blowing me away with her interpersonal vim and vigor, then with an impassioned performance emanating from her car stereo. She presented me with a voice so stellar that I had to travel many times back to New Zealand from New York. To work on material, to prepare the road ahead, to record an album that found life and success on the Billboard Charts, the LAMA Music Awards, and on airwaves everywhere. The consistency of appreciation for her talent is evident on tours throughout the States and Europe, on TV performances and radio broadcasts in front of tens of thousands of energized fans. Indeed, the continent never mattered, the language never mattered, the venue never mattered, the only thing that did was the passion with which Anita shared. Dynamic, emotive, an intense performer with power and savvy, it has always been an honor for me to share the stage with Anita and to see her ascension. That others could feel what I had heard in her, right from the start, always puts a smile on my face. It is a rare treat to discover that in a small town in the bottom right-hand corner of the world, a woman of character and vocal artistry could develop so truthfully into an artist for the world to behold. I think it is because, if you are born to sing, you sing. If you are born to perform, you perform. You have to travel to get to the Promised Land, it takes years, it takes a lot of will, but eventually you get there. Anita Prime reminded me that artists of true promise and musical integrity do still exist, and that a great surprise, maybe even the greatest, can bowl you over when you least expect it. "